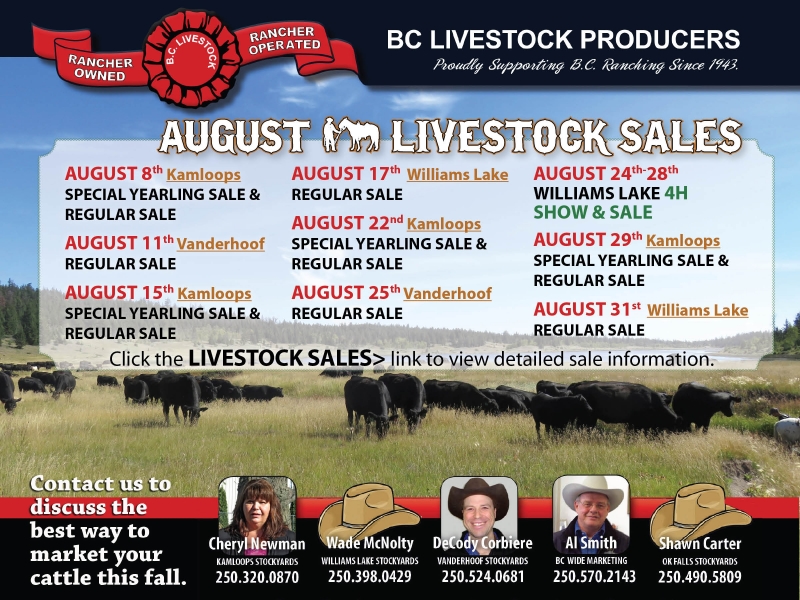 B.C. LIVESTOCK

IMPORTANT UPDATE: DUE TO RECENT WILDFIRES THERE ARE
DATE CHANGES FOR THE WILLIAMS LAKE STOCKYARDS
The Williams Lake 4H Show and S
ale has changed
The 4H show will be from Thursday, August 24th to Sunday, August 27th
The 4H sale will be Monday, August 28th


The August 24th Williams Lake ring sale will move up 1 week to
Thursday, August 17th with over 800 head listed so far.


Additional Williams Lake Ring Sale - August 31, 2017
---
BC Livestock Kamloops has space available for horses and cattle who require housing during the fires, please contact Cheryl at the yard to make arrangements.
250-573-3939
PEACHES WILL BE COMING TO THE KAMLOOPS STOCKYARDS ON
TUESDAY AUGUST 22nd, 2017
TO ORDER CALL DAVE @ 1-250-498-3343
---

HELP WANTED: BC LIVESTOCK PRODUCERS CO-OPERATIVE ASSOCIATION
BC Livestock Kamloops location is currently seeking a part time worker. Cattle handling skills and experience are an asset. Must be physically fit as the general duties are as follows: *Moving, sorting and processing cattle (off loading, loading, branding, tagging etc.) * Unload and load cattle handling equipment (gates, panels, cattle guards) *Handling other inventory items (mineral tubs, shavings, animal health products)
Please forward resume by fax: 250-573-3170 or Email: kamyard@bclivestock.bc.ca

KAMLOOPS: BC449KHAQ

WILLIAMS LAKE: BC449KDYT

VANDERHOOF: BC449KHVJ

OK FALLS: BC449KE93

---
Re: CCIA Tagging

Effective

January 1, 2017

, BC Livestock Producers Co-Operative Association will no longer accept "Contributor/Farm of Origin" CCIA tags for untagged animals arriving at our site. Due to numerous issues, any animal requiring a CCIA tag will be tagged with a BC Livestock issued tag, and charged for the tag and chute fee. This will be applicable at ALL BC livestock yards.

---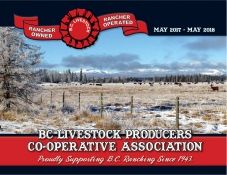 2017 - 2018 Calendars are now available to pick-up at your local BC Livestock yard.
A big Thank You to all our photo contributors for the great pictures.
Rancher owned and rancher operated, BC Livestock operates four stockyards, located in
Kamloops, Williams Lake, Okanagan Falls and Vanderhoof.
Serving BC Since 1943.about us, read more...